intelligent installations
To be our customers' ideal partner for a unique optimization of waste management, thanks to reliable solutions and local services.
Environmental
Increase recycling and reduce carbon emissions through effective incentive tools for citizens and optimized collection.

Innovation made in Switzerland
Integrating intelligent waste management into the realization of "smart cities", thanks to our WISE technologies developed in Switzerland.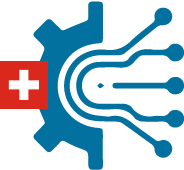 Societal
Reduce the financial burden of waste management on public authorities and ensure that the "polluter pays" principle is applied as fairly as possible.
Social
To guarantee, with the weight-based fee, equity of treatment between citizens and to allow the implementation of solidarity programmes for the most precarious individuals.
Within the framework of sustainable development, Agenda 21 and the need to optimise waste management, EcoWaste SA was founded to meet the needs of municipalities, collectors and users, thanks to its ecological solutions for "making containers intelligent".
These innovative, customised technological solutions, developed and manufactured entirely in Switzerland, enable our customers and users to optimise waste management and save up to 60% of the costs associated with it.
Thanks to our IT platform WISE® (Waste Information System by EcoWaste), which manages both facilities and related services, municipalities and cities benefit from a customised tool that is fully integrated into the development of "smart cities".

Ecowaste is first and foremost a team of complementary and supportive specialists at your service. With our consultants, engineers, technicians, production workshop, after-sales service and customer service, we accompany you from A to Z in the realisation of your projects related to intelligent waste management.